Balancing software for every industry –
Our classic systems
For many years, we have been supporting our customers in a wide variety of disciplines. From dental turbines to electric armatures and power plant turbines – our high-precision measuring systems can be used to balance rotors of any kind reliably and with high precision.
A PASSION FOR BALANCING – something we've had for more than 125 years now. We've also integrated this expertise into our balancing software. Find the right measuring system from our classic portfolio for any rotor and any industry.
Helping make good products better!
All classic measuring devices at a glance
CAB 920 - Synthesis of easy handling and highest precision
CAB 920 surprises with a well thought-out operating concept whose logical interrelationships can be understood at a glance. The result is convincing: fast and safe work with little learning effort - and that with every conceivable technical rotor variant. CAB 920 combines intuitive handling with the highest precision in measured value processing. This enables a very high unbalance reduction ratio and thus many rotors are already in tolerance in the first measuring run.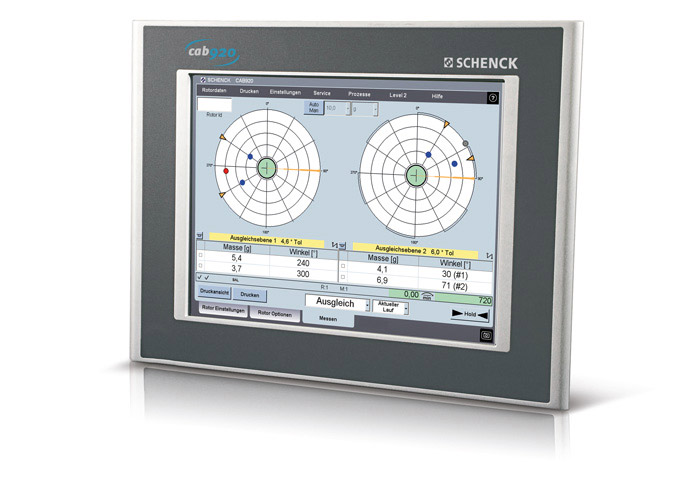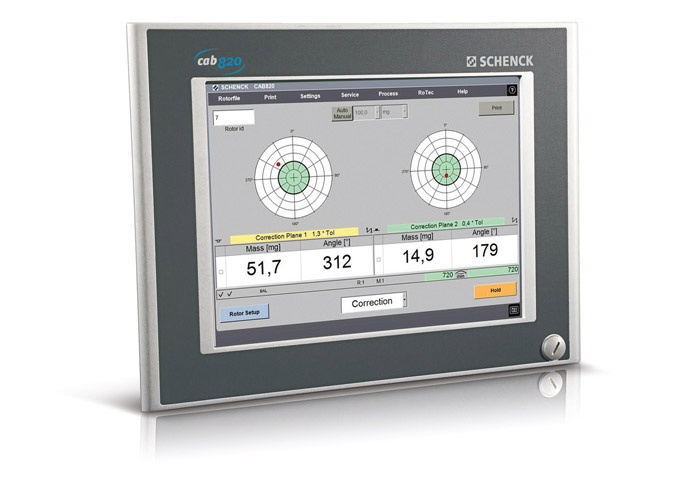 CAB 820 - The basic measuring instrument for safe balancing
CAB 820 sets standards in this class: It combines top performance with a lot of ease of use, all at a very good price-performance ratio. This measuring device is always the right solution when you want to achieve your balancing goals quickly and without much effort.
CABflex3 - The expert system for efficient balancing of shaft-elastic rotors
CABflex3 is the latest generation of our PC-based expert system for high-speed balancing of shaft elastic rotors such as rollers, compressors, generators or steam turbines. It enables highly accurate, fast and efficient balancing of elastic rotors.
The measured values are recorded and stored by CABflex as raw data to allow the greatest possible flexibility in data analysis. A wide variety of transducer types can be used. The number of channels is freely configurable. In addition to the correction weights calculated according to the influence coefficient method, various evaluations such as Bode and Nyquist diagrams are offered. Calculation of modial right unbalance, shaft path, runout profile, FFT analysis package, bending line, correction optimization and prognosis are just some of the available software options. Network capability and remote diagnostics via the Internet round out the software-side features.
On the metrological side - in addition to the plunger coils installed in the DH series bearing stands for unbalance measurement - non-contact sensors can be used to measure shaft motion. This allows the behavior of the rotor in the journal bearing to be investigated. In particular, however, the rotor deflection can also be precisely determined at prominent points, e.g. at strongly overhanging shaft parts or in the center of the rotor.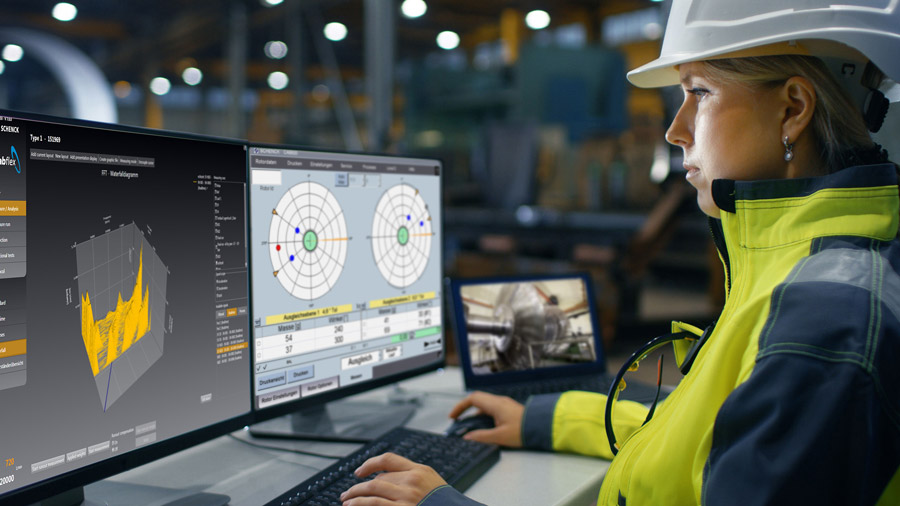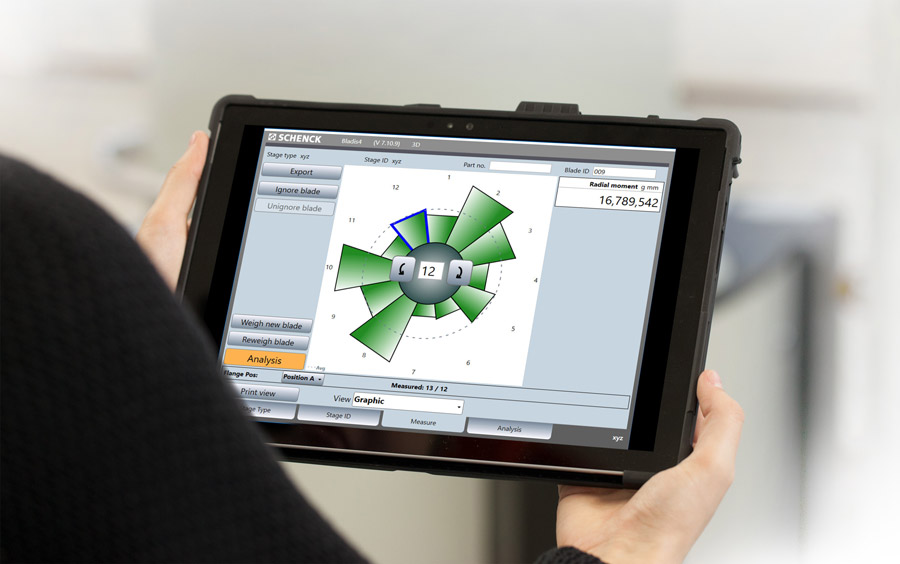 Bladis 4 - Optimum blade distribution on engine and gas turbine rotors
The Bladis-4 software, together with a moment or weight scale, enables the weighing of turbine blades as well as the optimized distribution to turbine stages in the aviation and energy industries. The optimized distribution of the weighed blades to the individual stages minimizes the unbalance of the stage, so that correspondingly few correction or trim weights have to be set during downstream balancing processes or test bench runs. This saves labor and weight on the corresponding rotors. The most common pre-distribution patterns are pre-configured: single-beam falling, double-beam falling, double-beam heavy-light, triple-beam heavy-light, etc. In addition, specific pre-distribution patterns can be defined and created by the customer. The weighed blades are stored in a database that can be accessed by other Bladis 4 systems, allowing networked operation with different workstations or locations.
Bladis Portable also works without a connection to a moment or weight scale. By manually entering mass or moment weights of already pre-weighed blades or importing the data from a Bladis-4 database, you can easily calculate the redistribution of turbine blades for a stage in a decentralized manner.
CAST 2 - Control and measurement for our centrifugal stands
CAST 2 is the central system on a centrifugal stand that records and analyzes the measurement data and monitors all parameters. It supports up to 64 analog and digital measuring channels, e.g. for speed, shaft vibration, vacuum and temperature. In addition, CAST 2 enables fully automatic sequence control of spin tests and test cycles. Furthermore, it offers the comfortable visualization of all measured values in online and offline mode.
Simple and intuitive definition of a test cycle
Permanent monitoring of all safety-relevant parameters
Live view of the sensor data used
Visualization of the measured data as a diagram or in tables
Manual or automatic scaling of the measured values